Timing is everything
When it hiked rates last month, the Fed — along with major Wall Street houses — predicted four more rate hikes this year. But a stock price correction has a way of focusing the mind on the implausibility of such a course of action, to which markets now assign less than a 1% probability.

A disconnect has long been evident from a cyclical vantage point. As we declared six months ago "[t]he Fed's rate hike plans are on a collision course with the economic cycle." Consequently, we observed two months ago, "[w]ith declining trend growth and a cyclical slowdown both bearing down, a full-blown rate hike cycle … looks questionable" (US Essentials, November 2015).

Where the economy stands today is quite clear based on the year-over-year growth rate of ECRI's U.S. Coincident Index (USCI). While some economists continue to be bullish on U.S. economic growth, Chart 1 plainly shows that the economy remains in a growth rate cycle downturn, with USCI growth dropping since the summer to a two-year low, after having already peaked in January 2015.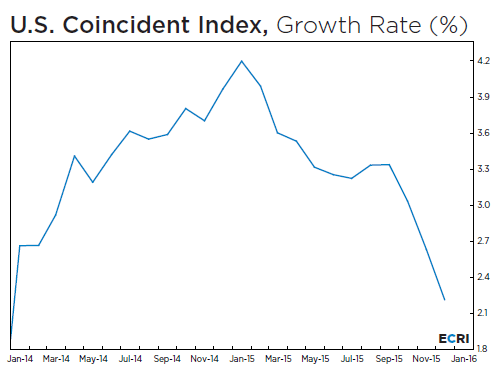 The growth rate of our U.S. Long Leading Index reveals whether the current slowdown in economic growth will end in a soft landing, or if the economy will enter a window of recessionary vulnerability. Neither scenario bodes well for further rate hikes in the near term, but the latter would cause a reversal in monetary policy.