Rising Wages Eat Into Profit Margins
After shrinking in recent years, corporate profit margins have been boosted by the nascent improvement in economic conditions. In particular, corporate profits as a percentage of GDP fell back by nearly 2½ percentage points between late 2011 and the end of 2015, but then recently reversed a third of that drop (Chart, top line).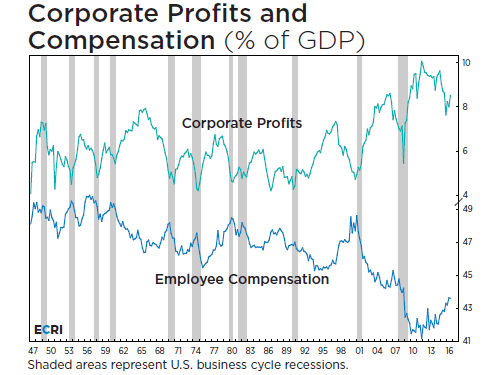 Meanwhile, employee compensation as a percentage of GDP, which had dropped to a record low by the end of 2011, has risen by almost 2½ percentage points (bottom line). The chart evokes thoughts of a pincer movement attacking corporate America.

It is worth noting that, for the last four decades of the 20th century, employee compensation stayed in a tight range, between 45% and 49% of GDP. In the decade following China joining the World Trade Organization (WTO) in 2001, employee compensation plunged to 41% of GDP, under assault from technology and globalization, along with two recessions. The partial recovery since that nadir is not a reversal of those structural forces, but largely a cyclical revival.

The flip side of that coin was experienced by corporations, whose profits had been confined to the 4% to 8% range during the entire post-World War II period until the end of the 20th century. A decade after China's entry into the WTO, corporate profits surged above 10% of GDP and, despite a pullback, it is still above anything seen prior to the 21st century. But, with wage growth on the rise and higher interest costs likely, profit margins will likely be squeezed.

The way to preserve profit margins in the face of rising labor costs is, of course, through higher growth in productivity, which Fed Chairman Janet Yellen called "the ultimate determinant of the evolution of living standards" in her December press conference. Asked for her view of the efficacy of fiscal stimulus in increasing the economy's productive capacity, she reiterated her "concern that productivity growth has been very low," but stayed noncommittal about the ability of fiscal policy to change those conditions.
Contrary to such ambiguity, we clearly explain the likely impact from fiscal policy boost proposed by the incoming Trump administration on productivity growth and corporate profits.