Japanese Manufacturing Rides on Global Industrial Growth Upturn
The Japanese manufacturing sector is gaining traction. Indeed, year-over-year (yoy) growth in the Japanese Coincident Manufacturing Index has improved since early 2016 to a 33-month high in December before slipping slightly in January (chart). This recovery is in line with a cyclical upturn in Japanese Leading Manufacturing Index growth, and, more broadly, is consistent with our global industrial growth upturn call last summer.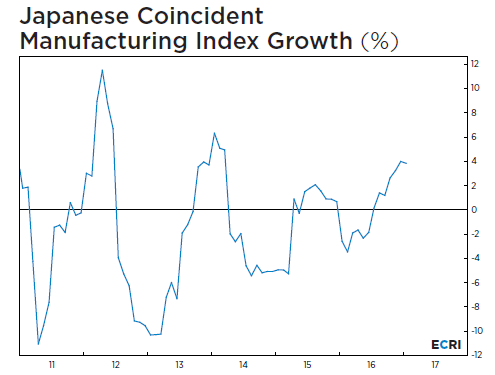 Driven largely by manufacturing, the overall Japanese economy remains in a growth rate cycle upturn, with quarter-over-quarter GDP growth showing positive readings in all four quarters in 2016 for the first time since 2005. In fact, the biggest contributions to Q4 GDP growth came from exports and private nonresidential investment – the capital expenditures component of GDP – whose yoy growth rates increased to seven- and 11-quarter highs, respectively.

This follows our forecast from three months ago for stronger capital expenditure growth (EWU, December 30, 2016), which has been validated. With consumer spending adding nothing to Q4 GDP growth, the outlook for capital expenditures and exports is key to sustaining the current economic recovery.