Consumer Sentiment and Spending: All Hat, No Cattle
In late 2016, during a growth rate cycle (GRC) upturn that took many by surprise, we declared that the "upswing in ECRI's U.S. Leading Index of Consumer Spending (USLICS), which has now risen to a 17-month high…suggests that the consumer will participate in that GRC upswing" (USCO Essentials, December 2016).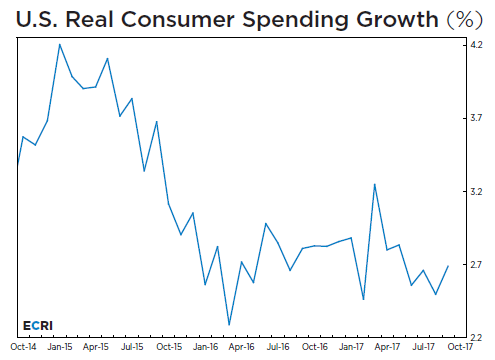 Indeed, year-over-year (yoy) growth in real personal consumption expenditures (PCE) turned up early this year, surging to an 18-month high in March. Since then, however, yoy PCE growth has stair-stepped down, giving back nearly all it had gained in that early 2017 pop. Now, with the holiday shopping season knocking at the door, the consensus has great expectations for a revival in consumer spending.

Some recent headline data support this view. September's retail sales, for example, beat expectations, leading Fed Chair Janet Yellen to declare that this "growth in consumer spending has been supported by the ongoing job gains and relatively high levels of household wealth and consumer sentiment." Additionally, in October, the University of Michigan's Consumer Sentiment Survey surged to its highest reading since 2004. Finally, yoy PCE growth ticked up in September, confirming for many that a revival in consumer spending is already underway.

However, some of that data carries hurricane-related distortions. In particular, September's retail "bounce was propelled largely by a replacement-driven surge in automobile purchases, a strong increase in gasoline sales due to a pop in prices spurred by the temporary shutdown of some Houston-area refineries, and rebuilding-related strength in building material sales that may continue in the near term" (USCO Essentials, October 2017). Considering that "the primary stores of wealth for most families" derives from home equity (USCO Essentials, September 2017), at least for the hurricane victims those "high levels of household wealth" touted by Chair Yellen have literally been swept away.

Further, for growth in consumer spending to have been driven by "ongoing job gains," as Yellen claimed, such improvement should be substantial and broad based. As we detailed previously, however, while "[h]eadline jobs numbers have been pretty solid this year… job growth has actually been driven by a very narrow group of industries," and sustained revivals have been limited to a handful of sectors.

The key problem is that, much like the "self-referential nature" of the Fed's Phillips curve (ICO Essentials, September 2017), the relationship between consumer sentiment and the consensus outlook is circular, forming a tautology as consumers react to positive consensus expectations. Since consumer expectations often factor into consensus forecasts, surging consumer sentiment results in even higher consensus expectations.

Nevertheless, as holiday shopping kicks into gear, those hoping for a consumer spending revival will be quick to cheer any upticks in PCE growth, like the one in September, as confirmation of their view. But, as the chasm between the soft and hard data for consumer sentiment and spending widens, the consensus will grow increasingly confused and, potentially, bipolar. Cutting through this noise, ECRI's objective leading indicators—including the USLICS, with its excellent record of anticipating turns in consumer spending growth—provide timely clarity.