Increasing Industrial Sector Risks in India
As the once-celebrated BRICS countries tumble one by one — with Brazil in a depression, Russia in recession, China sending shock waves through world financial markets and South Africa struggling with a crashing rand — India is seen as the last economy standing.

But, since India's exports, which are mostly goods, now account for about a fifth of its GDP, it has become increasingly sensitive to the global economy. As a result, the latest drop in IP growth to a four-year low has caused concern.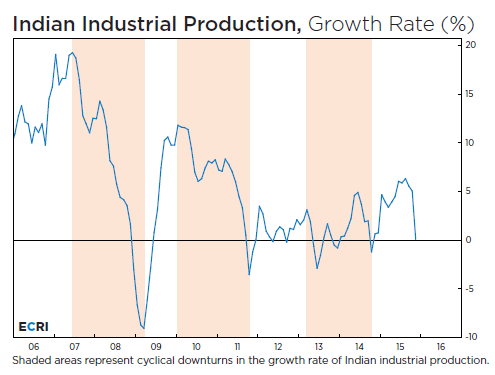 The chart displays growth in the three-month trailing average of IP, which has slid to a 13-month low. So is the latest decline in IP growth merely a temporary soft patch or the start of an industrial downturn?

In this context, ECRI's Global Industrial Long and Short Leading Indexes, along with our Asia-Pacific Industrial Growth Long Leading Index, illuminate what lies ahead for IP growth in the last intact BRICS economy.