Citing Weak Global Demand, Banxico Cuts Growth Outlook
In mid-February, the Bank of Mexico (Banxico) instituted a surprise rate hike – though it held rates flat in its latest decision – in an effort to bolster the very weak peso, which has since strengthened only modestly. Even with the weak peso, Banxico cited expectations of disappointing external demand – which has been an issue around the world – in justifying the recent cuts to its 2016 and 2017 GDP growth forecasts.

As anticipated by the earlier downturn in the growth rate of our Mexican Leading Exports Index (MXLExI), external demand is already feeble with Mexican real export growth at a seven-quarter low in Q4, and has been in a cyclical downturn since the end of 2014 (Chart). However, with the exchange rate between the peso and the dollar remaining near its record low, that could potentially provide some support to Mexican export prospects.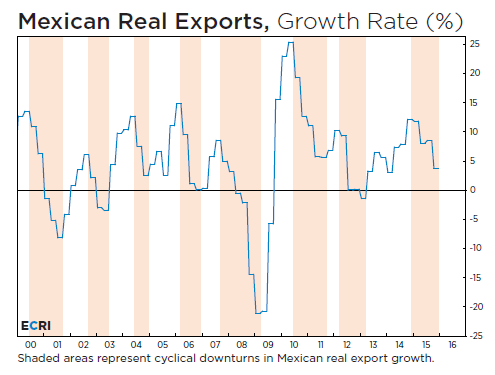 In this context, the latest update to the MXLExI clarifies the cyclical outlook for Mexico's external sector, which will play a key role in determining whether the Mexican economy can surpass Banxico's diminished expectations.