A Specter is Haunting Europe
A pair of unsettling realities is now dawning on the markets: First, that all the major developed economies are facing their own "lost decades;" and secondly, that Abenomics is failing, implying that there may be no exit from such long-term structural conditions.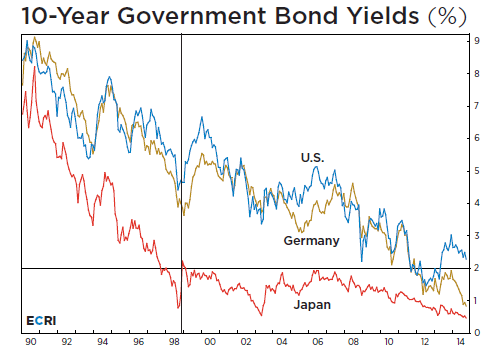 Even the supposedly-prescient bond market was slow to reflect Japan's entry into the lost decades beforehand. Not until 17 years ago, with Japan having plunged into the worst recession it had experienced since World War II, did 10-year Japanese Government Bond (JGB) yields (red line) first fall below 2% (horizontal line). It was 13 months later, in November 1998 (vertical line), that Japan entered sustained deflation, nearly nine years after the popping of its asset price bubble. Aside from an abortive pop above 2% immediately following the dive into deflation, JGB yields have never again surfaced above that mark.

JGB yields saw a brief resurgence following the Bank of Japan's launch of the first "arrow" of Abenomics in the spring of 2013, and, with year-over-year (yoy) Japanese CPI growth turning positive by mid-2013, many had hoped that structural deflation had been left behind for good. But with JGB yields slipping below 0.5% this summer, and dropping this month to a near-record low of 0.46%, the markets have tacitly acknowledged the failure of Abenomics. In fact, the Japanese Cabinet Office recently declared that its coincident index is "signaling a possible turning point" – the official euphemism for entry into Japan's seventh recession since 1992, which we warned about back in the summer.

Yet, Japan is scarcely alone. The long view, spanning a quarter of a century since the end of the Cold War, suggests that the three largest advanced economies – including the U.S. and Germany – are essentially on similar tracks as far as government bond yields are concerned.

In September 1990, those three economies' bond yields were tightly clustered – between 8.2% for Japan and 9.1% for Germany. They diverged thereafter as Japan entered its lost decades, but, following the tech bust around the turn of the century, began to converge once again. By the end of 2011, they were all below the 2% threshold; by July 2012 they were even closer together than in 1990 – between 0.8% for Japan and 1.5% for the U.S. and Germany.

While German yields recently touched a record low and remain below 0.9%, U.S. yields – after plunging briefly this month below 2% – are now hovering a little above that threshold, confounding the 67 economists polled by Bloomberg who only six months ago unanimously projected them to rise towards 3% or even 4% by this time.

In fact, 10-year inflation expectations for Japan, having climbed decisively above zero in late 2011 for the first time since 2008, are now hovering around 1%. Meanwhile, those for the Eurozone have slid to around 1½%, and those for the U.S. have slipped to a little over 2% (not shown). As a result, real interest rates are now around -½% for Japan and the Eurozone, and about zero for the U.S. (not shown).

In any case, cyclical gyrations notwithstanding, the chart demonstrates that nominal 10-year yields in the U.S., like those in Japan and Germany, are in an inexorable long-term secular downtrend. This reflects the looming lost decades, and is entirely consistent with our original "yo-yo years," thesis, alternatively labeled as the new normal (deleveraging) and secular stagnation.