U.S. Coincident Index Growth Rate Slips
The U.S. Coincident Index (USCI) ticked down to 169.8 in March from 169.9. Year-over-year (yoy) growth in ECRI's USCI, a broad measure of economic activity that includes GDP, employment, income and sales, has slipped to 2.16%, a 27-month low.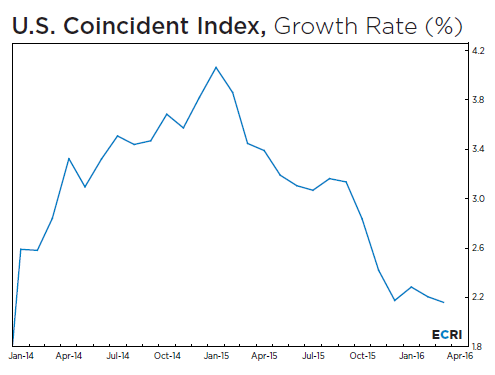 Over a year ago (US Essentials, January 2015) – contrary to the consensus that expected economic growth to improve even further as the year progressed – ECRI's leading indexes foresaw a slowdown.

To put the state of the economy in perspective click here see Lakshman Achuthan's presentation slides, which include notes and audio, from the Levy Economics Institute's 25th Annual Hyman P. Minsky Conference.