Pulse of the Consumer
See link below to watch the interview on Reuters TV.

The jobs report came in a bit under expectations, with 161,000 payroll jobs added, and the unemployment rate ticked down to 4.9% while staying above May's 8½-year low of 4.7%.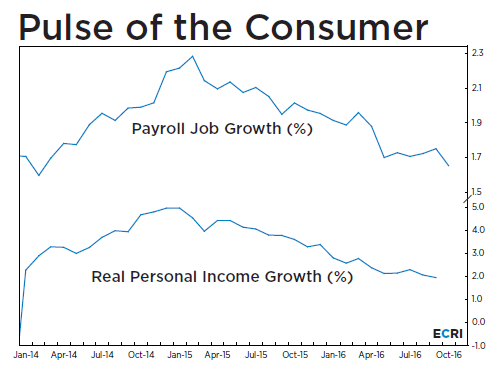 Year-over- year (yoy) payroll job growth slipped to a 32-month low (chart, top line), so the cyclical slowdown in jobs growth that began in early 2015 continues.

At same time, yoy real personal income growth has fallen to a 33-month low (chart, bottom line).

So in taking the pulse of the consumer, slower jobs growth compounds the problem of declining real income growth.

All of this data is consistent with a continuing growth rate cycle slowdown that's been going on for almost two years.
Having said that, ECRI has been crystal clear on recession; at the start of this year when recession fears ran rampant, we said "no recession."
And at this time there continues to be no risk of an imminent recession.




ECRI's publicly available U.S. Weekly Leading Index illustrates this point. The steady rise in the index all year, brief dips notwithstanding, made it clear to us that no recession was imminent.

I'd like to underscore how useful this information can be in the current environment of election anxiety.

With respect to the business cycle and recession risk, we can see that, whatever the election outcome, the economy will continue to grow in the coming months.

Recall that on June 23rd, when the Brexit vote took place, everyone expected a recession as a result except ECRI.

Back then, we were alone in saying "no recession in the U.K." based on our U.K. leading indexes, both before the fact and immediately after the vote.