Trade Sanctions and Global Slowdown
As is often the case, ECRI has a completely different take on things, because we are laser-focused on cyclical dynamics rather than what some econometric model is saying.

The global slowdown we predicted last fall is just starting to show up in research notes from Wall Street.

ECRI's global growth downturn call was based on our 20-Country Long Leading Index, which has an excellent track record. What most don't realize is that this is no longer a forecast, but is now a fact.

Quarterly annualized GDP growth for the three largest advanced economies -- U.S., Eurozone and Japan – has already rolled over.

As the chart shows, all three slowed in Q4 – that's what a synchronized global growth downturn looks like.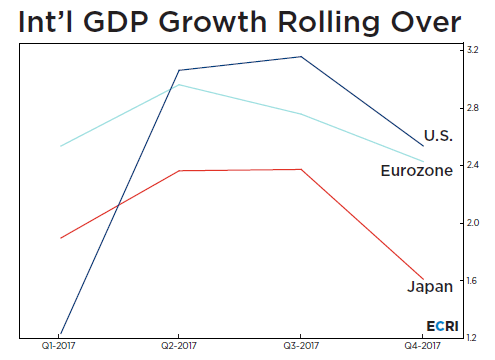 But groupthink on the synchronized global growth -- like what we saw at at Davos -- is so strong that nobody seems to have noticed Korea's GDP contracted in Q4 for the first time since the GFC -- in part because their exports saw its biggest plunge in 33 years.

Turning to Central Banks, last week we got to hear Jay Powell as Fed Chairman for the first time, with a slightly more hawkish tone than expected, predicated in part on global growth staying strong this year. Mr. Kuroda followed up with his remarks about exiting QE in Japan.

In sum, last fall ECRI warned about the global slowdown now underway and the consensus is playing catch-up, while Central Banks continue to lag farther behind, mistaking last year's synchronized upturn for a structural shift toward a "normal" economy.

Click here to review ECRI's track record, including member report excerpts.

For more information on ECRI professional services please contact us.
VIEW THIS ARTICLE ON BLOOMBERG