Global Economy Caught in Structural Straitjacket
The global economy is currently experiencing a period of rising growth and inflation, which we flagged before the November election. But, contrary to popular belief, these cyclical swings are not likely to negate the long-term structural trends affecting the global economy.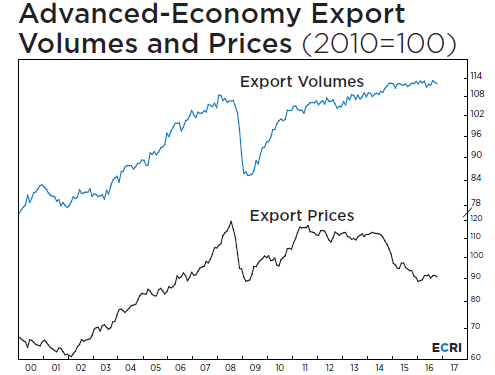 In early 2015, well before the stance of the Trump administration regarding international trade came into focus, it was clear to us that global trade had been retreating in terms of the falling share of exports relative to GDP in key economies. This trend is set to persist, as already obvious from advanced-economy export volumes, which, after recovering strongly from the Global Financial Crisis, have since stayed quite flat, actually slipping marginally since late 2014 (blue line).

In fact, advanced-economy export volumes have declined although their export prices started to plunge in the summer of 2014 in a way not seen outside a global recession. Even today, in the midst of global reflation, advanced economies' export price levels have increased only a bit, actually dipping in the latest reading and staying near a ten-year low (black line). This suggests that the structural pattern of low or even negative inflation resulting from sustained global overcapacity continues, and is likely to hamper any significant capital investment by the private sector. This global overcapacity is also significant because, once the cyclical upturn in inflation reverses direction, as cyclical moves must, this structural deflation or lowflation will once again come to the fore.