Future Inflation Gauge Leads Inflation Expectations
ECRI's U.S. Future Inflation Gauge (USFIG) turned up ahead of inflation expectations, and remains in a cyclical upturn.
The chart shows that the USFIG (red line at the top) was already in a strong upturn last July, so even though market inflation expectations (blue line at the bottom) was way down, we knew that a major upshift in the inflation cycle was at hand.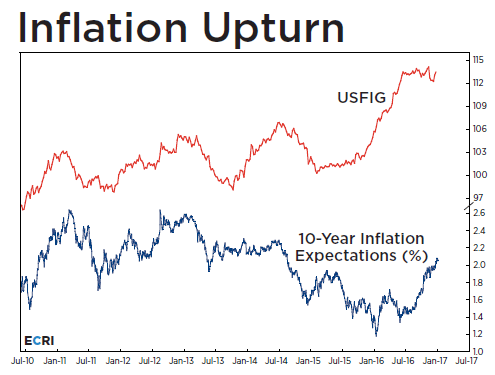 Of course, since then, inflation expectations have risen significantly.

Since the summer we have had a U.S. inflation upturn call, and a global reflation call, based on 11 international FIGs (see presentation slides).
Combining that with our earlier growth rate cycle upturn call for the U.S., it's clear that, on a cyclical basis, we are at a very different place than a year ago.